Study in UK in 2024: A Complete Guide
September 27, 2023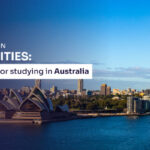 GTE Requirements In Universities: A Full Guide for Studying in Australia
November 8, 2023
The demand for abroad education is rapidly increasing among Indian students. Over 750,000 students were studying abroad in 2022, and the estimated report says that 1.8 million Indians will be studying abroad by 2024. Increasing options in education systems and Internet penetration make students consider studying abroad the best career option. 
GRE, TOEFL, PTE, SAT, MCAT, and IELTS are some ways to apply for study abroad, among which IELTS is the most popular. Every year, around 1.3 to 1.4 billion Indians take the IELTS test and find their way to study in the desired countries.
IELTS is the most trusted exam by students and organizations to open their doors to foreign countries. It is the only English test accepted by all immigration authorities to prove your English skills. The IELTS test helps improve your language skills in all four modules and broadens the career aspects for students and employees.
The right IELTS score proves that you are proficient in the English language and can enter a top university in your dream country. IELTS scores are also considered by the government and professional bodies for immigration and professional registration purposes.
If you are a student willing to study abroad, or an employee looking for immigration, then IELTS could be the first critical step in your journey, you'll have to start with. Scoring 6 to 6.5 bands in the IELTS is necessary for a student visa and with the right practice, students can get it. But when you want your results a little above, then you must have to practice hard and go into the little details of every module of it. 
This is a tips and tricks blog for you to score 7+ bands in IELTS. Make sure you read every part of it and don't miss any!
What is IELTS?
International English Language Testing System – IELTS is an English proficiency test developed and run by the British Council by partnering with IDP education and Cambridge Assessment English
IELTS is a majorly regarded and recognized English proficiency test for higher education and global immigration. IELTS is one for all – study abroad, career development, or want to settle in an English-speaking country. 
IELTS has spread its verve around the globe by winning the trust of over 11,500 organizations in 140+ countries. Passing with the right score in IELTS means being recognized by educational institutions, employers, professional bodies, and the government that requires you to check your English language proficiency. 
Australia, New Zealand, Canada, and the United Kingdom – governments of these countries trust IELTS for their immigration application processes.
The development idea of the IELTS test was by some language assessment experts to test the full array of skills required which mainly consists of 4 components – Writing, Reading, Listening, and Speaking.
Below is the all-round information of all modules!
IELTS Test Modules and Sections
IELTS has two modules: Academic and General Training. Both these modules have four sections – Listening, Reading, Writing, and Speaking. The listening and speaking sections are the same for both modules, only the reading and writing sections differ in both the modules.
Academic IELTS:
Generally taken by students willing to study at a university or a college in an English-speaking country. The reading and writing sections of this test follow the points of science, history, and social sciences to make students familiar with academic words.
General Training IELTS:
This test is taken by people planning to migrate to an English-speaking country or people wanting to demonstrate their English language proficiency for work purposes. The reading and writing sections of this test follow the general points of everyday work and life.
Listening
The listening section of the IELTS exam consists of four parts, each including ten questions. In the listening test, you will listen to a variety of recordings, including conversations, lectures, and news broadcasts. This test will ensure your ability to understand the main points and little details of the recording by listening.
Reading
The reading section of the IELTS exam consists of three passages, each of 10-13 questions. The passages will be from different sources, such as newspapers, magazines, and academic journals. This section will test your ability to gain the main points of passages with specific details.
Writing
This section will consist of two tasks. Task 1 will ask you to write a summary from the given chart,  graph, or table, and in task 2, you will be asked to write an essay or paragraph on the given topic.
Speaking
The speaking section of the IELTS exam will consist of three parts. Part 1 will be kind of your introduction to the examiner, in which you will answer questions about yourself and your interests. After that, for part 2, you will be given one topic card to talk on for two minutes. You will be provided one minute to prepare for that topic. For part 3, the examiner will discuss with you the topic given in part 2 and your talk on that.
IELTS Test Format
Having an idea of what kind of test format you are going to follow, is an advantage. Being familiar with the IELTS test format will boost your confidence and make your preparations easy for you. 
The IELTS test format is the same for both – Academic as well as General training, except for reading and writing sections. Both the tests are graded in the same way. 
The first three sections of the test – Listening, Reading, and Writing will be taken on the same day without any break. The speaking test can be taken on the same day or different or before /after 7 days, depending on the testing centers. 
The IELTS exam is a timed test. Each section will have a limit. The allotted time for each section is as follows;
Listening: 30 minutes
Reading: 60 minutes
Writing: 60 minutes
Speaking: 11-14 minutes
The candidate will be scored on a scale of 0 to 9 bands, with 9 being the highest score. Each section of the IELTS test is scored individually, from which the overall band score is calculated by averaging your scores on the four sections. 
The passing score for undergraduate study will require a 6.0 band and at least 7.0 for postgraduate study. Although, it may vary based on different institutions and organizations. 
Be familiar with the concept of the IELTS exam and questions to better prepare for it.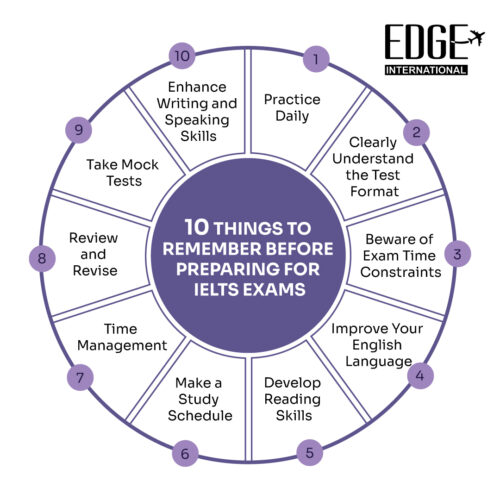 Prepare for IELTS: Things to Remember

Many students feel incredibly overwhelmed while preparing for the IELTS test. Students find trouble with where to start, how to start, and what resources or material to use for practicing. 
Follow these easy steps to go well-prepared for your test! Do not skip any!
Practice Daily
The more you practice, the better you become. Set some time aside every day to study and practice, even if it's just for 30 days. This will help you to identify your weak points and strengths. It does not only mean to work on weaknesses but also to make a strong foundation for tests by working more on strengths.
Clearly Understand the Test Format
Make yourself informed about the different sections of the IELTS test. Understand the format and the type of questions you will be asked. This will help you to know what to expect and what preparations you'll need to do to answer those questions
Beware of Exam Time Constraints
The IELTS is a timed test, the more clarity on the test pattern and questions, the higher are chances for you to complete the tests in the allotted time. Try practicing under time conditions, and mark the points where you took the longest. This will help you to improve those areas of a particular section where you need to speed up your practice.
Improve Your English Language
While focusing on the IELTS exam, do not forget to work on your English language. Remember. IELTS is an English proficiency test. Be aware of your current English level, and have command over it. This includes having a strong vocabulary, grammar, and writing skills.
Develop Reading Skills
The reading section of the IELTS test is one of the most challenging parts of it. It is important to develop reading skills to quickly and accurately understand the information in the reading process. Practice reading various types of texts, such as academic articles, newsletters, and fiction
Make a Study Schedule
Once you understand the test pattern, identify your weak and strong points, create a study schedule that will prepare you for your test. Make sure to schedule time for each section of your test modules equally.
Time Management
Time management is essential for the IELTS test. Make sure you complete your practice of each section under time conditions. Learn to manage your time effectively and avoid running out of time while practicing.
Review and Revise
Only practicing blindly isn't enough, make sure you review your work and recognize the areas of improvisation. This will help you progress over time.
Take Mock Tests
Taking mock tests is one of the best ways to prepare for the IELTS exam. This will help you to get used to the IELTS test format. You can find mock tests online or in IELTS preparation books.
Enhance Writing and Speaking Skills
The writing and speaking sections are tricky in the IELTS exam. Practicing these sections regularly is important. You can practice writing essays and answering prompts. You can practice speaking by talking to a native English speaker or by recording yourself speaking and listening back to your recordings.
Crack the IELTS Exam: Common Mistakes to Avoid
Cracking the IELTS exam is an artful practice. If followed by the right methods, you can get the desired results, if not then you'll just keep struggling around. To simplify, we are helping you by listing some common mistakes that every 1 out of 3 students make. Avoid these mistakes in your preparation.
Writing Mistakes
Not following the instructions
Making grammar and spelling errors
Using a limited vocabulary
Not writing in a formal style
Not expressing your ideas clearly
Reading Mistakes
Not reading the instructions carefully
Not reading the entire passage
Not understanding the vocabulary
Not managing your time effectively
Not checking your answers
Listening Mistakes
Not paying attention
Not taking notes
Not guessing
Not being able to follow the conversation
Not transferring answers to the
Answer sheet correctly
Speaking Mistakes
Lacking confidence
Not knowing what to expect
Giving short Yes/No answers
Wrong pronunciation
Memorizing answers and remaining silent
Repeating the same words and going off-topic
How to Score 7+ Bands in IELTS: Tips and Tricks
To score 7+ bands in the IELTS exam, you need to have a strong command of the English language in all four skills. Here are some tips and tricks for you to achieve it:


Tips to Score 7+ in Listening
Listen to English as much as possible.
This could involve watching English movies and web series, TV shows, and listening to English music or podcasts.
Practice listening to different accents.
Pay attention to the little details of what you're hearing.
Practice taking free or paid IELTS listening tests.
Tips to Score 7+ in Reading
Develop your reading speed and practice reading various English texts such as newspapers, magazines, books, and articles.
Practice identifying the main points of the passage.
Practice skimming and scanning. Skimming is reading quickly to get the gist of a passage. Scanning is quickly identifying the main points of a passage.
Take as many reading tests as possible.
Tips to Score 7+ in Writing
Practice writing for both parts of the writing test and comfortable yourself with both the formats of essays as well as summaries.
Develop your vocabulary and grammar. The writing test of the IELTS exam assesses your grammar and vocabulary skills.
Practice proofreading your work. Proofread your writing before you submit it to filter it.
Use a variety of writing sentences and structures.
Tips to Score 7+ in Speaking
Speak clearly and confidently. Make sure you speak loudly and enough so that the examiner can understand you.
Answer the questions fully. Answer all the parts of the question and give the details.
Use different vocabulary and phrases.
Stick to tangents. Only answer relevant things to the question.
All these tips are for self-practice, but you may need a piece of expert advice at some point. Make sure you approach the right consultant for accurate advice and support.
Make a Way with Edge!
Edge International is a leading study-abroad consultancy having a team of experienced visa experts and counselors. Our experts help students with each step of their study abroad process. Edge International, our students get valuable access to personalized guidance in their chosen course from our certified tutors. Get the best IELTS preparation tips from us and make your way to your dream destination!
Read More