Secure A Scholarship In The UK With Ease
Get detailed information about Scholarships in the UK and maximize your chances of securing a UK scholarship with our expert guidance.
Scholarships For Indian Students In The UK
The cost of studying in the UK is considerably higher for international students. However, the good news is the UK offers large numbers of schemes, scholarships, and other financial aids to ease the financial stress of students.
These scholarships can be partially or fully funded, depending on the course, university, and student's profile. Moreover, there are numerous scholarships available for Indian students to study in the UK offered by the British government, universities, and other private institutions.
Find more details about different types of scholarships, eligibility criteria, and more.
Different Types Of Scholarships In The UK For Indian Students
There are mainly three types of scholarships in the UK
Government Funded Scholarships

University Based Scholarships

Private Institution Based Scholarships
Intakes For Scholarships In UK
The following are the UK Scholarships intakes:
| Intakes | Duration |
| --- | --- |
| Autumn/Fall intake | September to December |
| Spring intake | January to April |
| Summer intake | April to June |
How To Apply For UK Scholarships?
To apply for scholarships in the UK, Indian students must be eligible to apply.
Must be an Indian citizen

Must have completed their education in English medium

Must have a good academic score
How To Apply?
Mostly, every scholarship is required to be applied directly from the official website; however, scholarships offered by universities must be applied during the application period to the respective university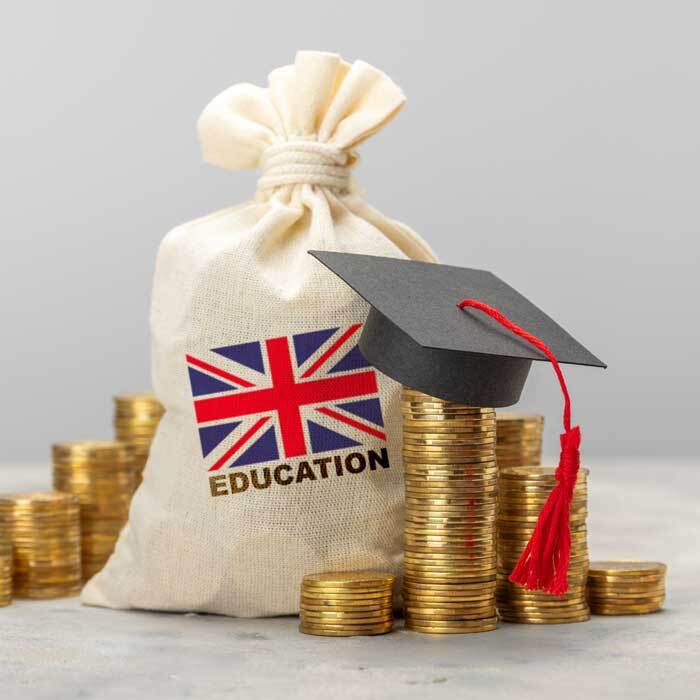 Popular Scholarships Funded By UK Government For Indian Students
British Chevening Scholarships:
This scholarship is funded by the UK Foreign and Commonwealth Office and partner organizations. It offers partial or full funding and covers expenses like airfare, living expenses, and tuition fees. It is usually awarded for a 1 year Master's degree course in the UK.
Commonwealth Scholarship and Fellowship:
This scholarship is offered to international students from commonwealth countries for studying postgraduate degrees (Master's & Ph.D.) in the UK. The scholarship covers airfare, examination and tuition fees, and additional allowances.
Different types of Commonwealth scholarships are:
Commonwealth PhD Scholarships
Commonwealth Split-site Scholarships
Commonwealth Master's Scholarships
Commonwealth Shared Scholarships
Commonwealth Distance Learning Scholarships
Commonwealth PhD Scholarships
Commonwealth Professional Fellowships
GREAT Scholarship:
Funded by the UK Government's GREAT Britain Campaign and the British Council, this scholarship includes 99 postgraduate scholarships for international students and 13 postgraduate scholarships for Indian students. The minimum grant offered is £10,000, which is equal to 1 year's tuition fee for a postgraduate degree.
Charles Wallace India Trust Scholarships (CWIT):
This scholarship is funded by Charles Wallace India Trust and is offered to Indian students living in India and working or studying in arts, humanities, or heritage conservation.
The three types of CWIT grants are CWIT long-term grants, CWIT Short Research Grants, and Grants towards the final year of Doctoral study in the UK.
Top Scholarships Offered By UK Universities For Indian Students
| Name Of University | Scholarship Name | Scholarships Awards | Eligibility |
| --- | --- | --- | --- |
| Coventry University | Coventry Academic Performance Scholarship | £1,500 covering tuition fees | For students enrolled full-time in an undergraduate or postgraduate course |
| University of Cambridge | Gates Cambridge Scholarships | Covers tuition fees and other allowances | For students enrolled in PhD or MSc/MLitt courses in UK universities |
| University of Edinburgh | Edinburgh Doctoral College Scholarship | Covers tuition fees and additional stipend,/td> | For doctoral students enrolled in on-campus research courses |
| University of West London | University of West London International Ambassador Scholarships | £5,000 | For students enrolled full-time in an undergraduate or postgraduate course |
| University of the Arts London | UAL Vice-Chancellor's Postgraduate International Scholarships | £5,000 and £25,000 | For students enrolled in Master's courses in UK universities |
| Imperial College | Imperial College London PhD Scholarships | Covers tuition fees and provides £16,553 | It is a merit-based scholarships |
| Simmons University | Kotzen Scholarship | Covers tuition fees | Undergraduate students with a minimum GPA of 3.3 |
| University of Bristol | Think Big Scholarship | £20,000/td> | UG & PG students not applied or received other scholarship with complete tuition fee waiver |
| University of Stirling | GEMS International Undergraduate Scholarship | £2000 off on tuition fees | Students enrolled in undergraduate course |
| University of East Anglia | University of East Anglia Scholarship | £4000 | Students enrolled in Master's course with great academic record |
| University of Edinburgh | Edinburgh Global Research Scholarship | £4251 | Merit based scholarship offered to doctoral students |
| University of West England | UWE Chancellor's Scholarship | 50% off on tuition fees | Students enrolled in postgraduate course |
| University of Nottingham | Developing Solutions Scholarship | 50 to 100% off on tuition fees | Offered to students from Commonwealth countries |
Course Specific UK Scholarship For Indian Students
| UK Scholarships For Bachelor's | UK Scholarships For Master's | UK Scholarships For Ph.D | UK Scholarships For MBA |
| --- | --- | --- | --- |
| Mary Trevalyan Hardship Fund | British Chevening Scholarships for International Scholarships | Clarendon Scholarship | Chevening Scholarships |
| ARU Sports Scholarships | A.S Hornby Educational Trust Scholarship | University of Exeter - PhD Scholarship | Commonwealth Masters Scholarships |
| Academic Excellence Scholarships | Sports Scholarships | Chemical Engineering PhD Scholarship | Commonwealth Fellowship Plan |
| International Ambassador Scholarship | Family Scholarship | Graduate Teaching Fellowship | GREAT scholarships |
| Leeds International Foundation Year Scholarships | Birkbeck International Excellence Scholarships | Doctoral Scholarship in Biology & Statistics | The Global Study Awards |
| Bradford Undergraduate Bursary Scheme | Society for Underwater Technology Educational Support Fund | Harding Distinguished Postgraduate Scholars Program | Charles Wallace India Trust Scholarships |
| Transform Together Scholarships | Elizabeth Greenshields Foundation Grant | Charles Wallace India Trust Scholarships | Inlaks Scholarship |
| Rapid Formations Entrepreneur Scholarship Program | Rhodes Scholarship | International Business Department Scholarship | Felix Scholarship |
| - | - | Carnegie PhD Scholarships | Goa Education Trust Scholarship |
| - | - | Gates Cambridge Scholarship | |