Tips and Tricks to Score 7+ Bands in IELTS
November 1, 2023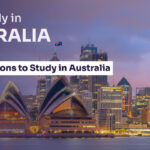 Why Study in Australia in 2024? Top 10 Reasons to Study in Australia
November 20, 2023
In recent years, Australia has become the top choice for students wanting to study abroad. The diverse course offerings and the vibrant student life excite students to live and study in Australia.
For Australian student visa applications, students first need to meet the Genuine Temporary Entrant(GTE) requirement to get their student visas granted. It is a genuine test for students to ensure they only intend to study and will return to their home country after completing study.
If you are planning to study in Australia, this blog is for you!
We have covered almost everything about the GTE requirements for international students in Australia, from what it is, why it exists, and how to crack it. Read on to increase your chances of success!
Study in Australia: A Complete 2023-24 Guide
Australia - one of the top study-abroad destinations for Indian students. In several ways, Australia offers the best student life. Australia has some really good student-friendly cities with multicultural diversity that attracts thousands of Indian students every year.
In July 2022, approximately 96,000 Indian students were pursuing higher education in Australia, which clearly states that Australia has a wide group of Indian students pursuing their dream courses in Australia while exploring the country.
The number of Indian students in Australia is only increasing day by day. Australia has 4 intakes - fall, spring, summer, and winter. For 2024, the February intake is considered the best as it offers many interesting courses and opportunities.
Students aspiring to study in Australia in 2024 are suggested to start researching and gathering all the information from now onwards to gain knowledge about Australia intakes, courses, degrees, and universities to help themselves choose the best among all.
Top 5 Reasons to Study in Australia
Australia is the 3rd most popular study-abroad destination after the US and UK. Many reasons make Australia the best choice for international students. Australia gives about everything to students that any student could ask for.
There is no language barrier in Australia, as it is an English-speaking country. Australia offers the best lifestyle to international students with its scenic beauty and picturesque locations.
A student studying in Australia will have an opportunity to explore one of the most beautiful seas and sunshine in the world.
Let us justify the popularity of Australia among other countries.
Best Quality Education

The education system of Australia has taken third place in the world with a quality index of 70.5. Australia is home to some globally recognized universities including the University of Melbourne, the University of Queensland, Monash University, and many more.

The universities of Australia are reputed for their strong research and training methodologies. Universities in Australia approach research-based learning where students will implement all the concepts and ideas they gather.

The education system of Australia focuses on practical knowledge, and hands-on experience, and makes students job-ready.

Affordable Costs

Affordability is one of the top reasons for international students to study in Australia. While the cost of living and tuition fees in Australia can be relatively high for some students, many factors make it more affordable than in the US and UK.

The Australian government offers numerous scholarships and bursaries to international students. Additionally, many Australian universities offer their financial aid programs.

Students in Australia are also allowed to work part-time while studying, which helps them to cover some of their living expenses.

Excellent Work Opportunities

The government of Australia allows international students to work in Australia part-time for 48 hours every two weeks while studying and full-time during semester breaks. This allows students to get real working experience and earn at the same time.

The post-study work visa offered by the Australian government allows students to apply for their work visa after graduation while staying in Australia.

After graduation, international students can apply for a temporary graduate visa to stay in Australia for up to four years after graduation to work or study.

Welcoming Community

Australia is a welcoming and inclusive place for international students. Australian people are very friendly and welcoming. International students often feel surprised by how quickly they feel at home in Australia.

International students feel safe, secure, and accepted in Australia because of the supportive and helping nature of people.

The peaceful environment and a strong support system in place for international students give them the confidence to study in Australia.

Cultural Diversity

Australia is a melting pot of diverse cultures. The multicultural environment of Australia makes it a great place for international students.

People from over 200 countries call Australia their home. The diversity of Australia is reflected in its food, music, art, and festivals.

International students will get to experience this diversity firsthand. This can be a very enriching experience, both personally and academically.
What is GTE in Australia?
GTE - shortened for Genuine Temporary Entrant is a mandatory requirement for students applying for an Australia student visa. GTE requirement is designed to ensure that the candidate applying for a student visa genuinely tends to study in Australia and will return to their home country after study.
The GTE is an important part of the Australian Student Visa process. Students need to take time to understand the GTE requirements.
To meet the GTE requirements, students must demonstrate their strong ties to their home country such as family, employment, or family ownership. Students should also be clear about their plans after completing their studies in Australia.
The Department Home of Affairs considers the following factors while assessing a student's GTE requirement:
Student's personal circumstances in their home country
Student's potential circumstances in Australia
Value of proposed study program in student's future
This is one kind of honesty measure test for candidates to use the student visa of Australia as intended and not to get a residency in Australia.
How Does GTE in Australia Take Place?
The GTE assessment for Australia takes place in two stages - A written statement and an Interview. The process aims to measure the genuineness of students to study in Australia.
Both the stages of GTE assessment will evaluate the intentions of the student. The first stage of the GTE assessment will consist of a written statement in which a student will have to write a genuine temporary entrant letter providing all the personal statements to convince the department home of affairs.
The GTE interview will be part of the student visa application in Australia as the face-to-face interview will be conducted by the visa officer. In this stage of GTE assessment, the visa officer will verify all the information provided by the student and will assess the student's desire to study in Australia by asking one-on-one questions.
Understand the Process of GTE
The GTE assessment process is conducted by the Department of Home Affairs. Visa officers will consider all of the evidence provided by the applicant when assessing their GTE status.
The process is assessed on a case-by-case basis, taking into account individual circumstances.
The GTE process for Australia is relatively straightforward. You will need to write a personal statement addressing the GTE requirement and provide supporting documentation. Your personal statement should be around 300 words long(2000 characters) and should explain the following:
Why do you want to study in Australia?
What do you plan to do after you finish your studies?
How do you plan to support yourself financially while in Australia?
Why do you have strong ties to your home country and will return after your visa expires?
The student visa for Australia will be granted based on the student's written statement and interview performance.
The processing time of GTE application is around 4-6 weeks which may or may not vary depending on the individual's circumstances and the country from where it is applied.
GTE Parameters:-
Common QuesOverall profile of the applicant (academic scores, IELTS score and work experience)
Student's financial documents
Relevance of the program to student's educational background
Students' awareness of the program structure, costs, units, etc.
Gaps in the student's profile and the evidence he can furnish to explain the reasons
Student's reasons for choosing not to study in India
Visa refusal history/immigration history of the student & Dependents
Applicant's awareness about the costs (tuition fee and living expenses) involved during his stay in Australia and how he plans to cover the expenses
Student's circumstances in India – employment status and income of his sponsors
Student's circumstances in Australia – presence of his family members in Australia
Questions Asked in a GTE Australia Interview
Common GTE Interview Questions:
Why did you choose Australia for further studies?
Have you or any of your family members ever been refused visa for US, UK, Canada, NZ (or other countries) – Student/ Tourist/ TR/ PR
Have you or any of your accompanying family members had/have applied for Australia visa – Student/ Tourist/ TR/ PR?
Have you or any of your family members been refused any Australian visa – Student/ Tourist/ TR/ PR
Why have you chosen the particular course and institution?
How will you finance your studies and living expenses in Australia?
Why do you think you will return to your home country after your visa expires?
How will your studies benefit you and your home country?
Have you or your spouse ever traveled to the US, UK, Canada, NZ or any other country – Student/ Tourist/ TR/ PR
Make sure you answer all the questions confidently and with clarity. Try to match your answers with your application as the visa officer can cross-check your information.
Let us Help You In!
Meeting a GTE requirement is important to have a successful student visa application in Australia. All the applicants must meet this requirement to get started on their educational journey in Australia. Edge International has a team of expert global visa counselors to help students pursue their dream courses in dream destinations. Let us help you with the same!
Read More